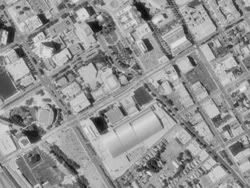 NASA's World Wind
I stumbled upon NASA's World Wind program and just had to check it out. Think of it as a vast, worldwide map program. It's not something you would use to get directions to your grandmother's house (where those directions would be "over the river and through the woods"), but more of a tool for geography class. I installed it last night, had some technical difficulties, and then finally had fun playing around the various features of NASA's World Wind. Unfortunately, I haven't been able to test out all of the features available due to time and lack of documentation, but from what I've seen already, it's worth commenting on and sharing with everyone . . . or at least the 5 people who read my blog. The website describes it like this:
World Wind allows any user to zoom from satellite altitude into any place on Earth, leveraging high resolution LandSat imagery and SRTM elevation data to experience Earth in visually rich 3D, just as if they were really there.
Of course, the description says "just as if they were really there," but fails to add the phrase "several thousand feet in the air." If you ever had the chance to click the "aerial view" button in MapQuest (which is no longer there), then you've got a pretty good idea of what you'll find in one of the views. Some of the screenshots are really great, but unless you're looking at largely populated cities or extremely popular or prestigious landmarks, you're not going to see the best pictures. Generally what you'll see of interest is a series of black and white satellite photographs. Still, I was able to easily find my hometown (with town names turned on, of course) and then find my particular house from there. Perhaps I'll make a screenshot of my home town and put it up when I get the chance.
You really need a broadband connection to use this program, because it downloads only what you're looking at. The upside is that you don't have to download terrabytes of information. The downside is that the servers are sometimes overloaded due to the popularity of this software. The various views are quite interesting:
Land Sat 7: As I mentioned this is the tool I use most often. It gives you the black and white photos similar to the picture posted on this entry. The resolution on this is amazing: 15m/pixel.
MODIS: This is a neat feature that allows you to see fires, floods, dust, smoke, storms and volcanic activity. You first see icons spattered on the globe, and then when you click one you are able to see images of them. For instance, you could see the smoke from the 2003 California fires. Resolution: 250m/pixel. I'm still having issues getting this to work to my satisfaction due to lack of documentation.
Blue Marble: This gives you a true-color image of the earth. Resolution: 1km/pixel. It's nice to see things in true color, but you're not going to see the details of your hometown.
GLOBE: Allows you to view temperatures, rainfall, barometric pressure, cloud cover for any given day.
More:Country & state borders, place names, latitude and longitude lines and values, the Lewis and Clark trail, the Iditarod path, and other info are also available. It's nice that if you're looking at the USA portion of the globe, you will see the state borders and some state names. As you zoom in on a region, the state names remain while major cities appear, followed by smaller cities. Zoom as far in as you can, and you'll even see the different township names. This works for much more than just the USA, by the way.
The program's utter lack of documentation is embarassing. The program sends you to their website, and their website has three paragraphs that tell you how to move, rotate, and zoom. No information whatsoever is provided for using the various Land Sat, GLOBE, MODIS, or other neat tools. I'm slowly getting the hang of these tools, but it's much more frustrating than just reading up on what to do.
Just as an aside: I have not yet figured out how to pronounce this program's name, specifically "wind". Is is pronounced "wind," the meteorological phenomenon? Or is it "wind," what you do to old grandfather clocks? I'm thinking that "World Wind" is a pun, but that still doesn't clear things up. The pun could be that it sounds similar to "whirlwind," but I also realize that it could be pronounced similar to "worldwide".
If you're interested, you can get World Wind. Keep in mind that it wouldn't work for me until I also installed the latest patch (currently the 1.2d patch) on top of the install.
Related posts:

Fatal error: Call to undefined function related_posts() in /home/smarmyca/public_html/smarmycarny/wp-content/themes/smarmy/single.php on line 48