27 February 2005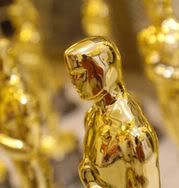 Oscar and his friends
Every year, I make my Oscars predictions, and this year is no exception.
Every year, I also make a fool out of myself with how terribly I do. At any large parties I have attended, I am invariably beaten out by the person in the room who has seen only Spider-Man 2 and Shrek 2. Nonetheless, I have decided to open myself up and show you all exactly how horribly I do. Perhaps this courage is what will allow me to go 24 for 24 this year . . . but I'm not counting on it.

ETV Results
While the Oscars ceremony was ongoing, I participated in the Enhanced TV games, trivia, polls, info, etc. It's generally annoying, as you're trying to watch the TV and your computer at the same time. As you can see in the screenshot to the right, I was able to get into the top 3%. I won't tell you how high the scores for the top ten people were, though, because the top 3% sounds impressive.
As usual, I started out spectacularly with 3 of 3, but quickly slipped to 4 of 8. This is precisely what I tried to describe above. Luckily, I ended up with a winning percentage . . . by one. Nonetheless, I'm taking it.
And now, for my results: 13 of 24
Best Picture
Winner: Million Dollar Baby
My pick: The Aviator
Best Actor
Winner: Jamie Foxx, Ray
Best Actress
Winner: Hilary Swank, Million Dollar Baby
Best Supporting Actor
Winner: Morgan Freeman, Million Dollar Baby
Best Supporting Actress
Winner: Cate Blanchett, The Aviator
Best Director
Winner: Clint Eastwood, Million Dollar Baby
My pick: Martin Scorsese, The Aviator
Best Original Screenplay
Winner: Charlie Kaufman, Eternal Sunshine of the Spotless Mind
Best Adapted Screenplay
Winner: Alexander Payne and Jim Taylor, Sideways
Animated Feature
Winner: The Incredibles
Art Direction
Winner: The Aviator
Cinematography
Winner: The Aviator
Costume
Winner: The Aviator
My pick: Lemony Snicket's A Series of Unfortunate Events
Documentary Feature
Winner: Born into Brothels
My pick: Super Size Me
Documentary Short Subject
Winner: Mighty Times: The Children's March
My pick: Autism Is a World
Film Editing
Winner: The Aviator
My pick: Million Dollar Baby
Foreign Language Film
Winner: Mar Adentro (The Sea Inside), Spain
Makeup
Winner: Lemony Snicket's A Series of Unfortunate Events
My pick: The Passion of the Christ
Original Score
Winner: Jan A.P. Kaczmarek, Finding Neverland
Original Song
Winner: "Al Otro Lado del Rio", The Motorcycle Diaries
My pick: "Believe", The Polar Express
Short Film, Animated
Winner: Ryan
My pick: Guard Dog
Short Film, Live Action
Winner: Wasp
My pick: Little Terrorist
Sound Editing
Winner: The Incredibles
My pick: Spider-Man 2
Sound Mixing
Winner: Ray
Visual Effects
Winner: Spider-Man 2