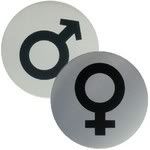 Gloria's Nuts (Pun intended)
Melody Berger reported her (intentional) encounter with Gloria Steinem in an article in The F-Word Ezine. In it, she not only fawns over Steinem the entire time, but even after the interview, she admits that "The two hours we spent chatting over coffee comprised, quite easily, one of the most amazing highlights of my entire life. Basking in the aura of "Glo" was such an intensely inspirational experience." Yikes.
Here's one particularly confusing section of the interview:
Melody: When I saw the picture, the famous picture of him, with a bunch of other white guys, gleefully signing away our rights as women [with the Partial Birth Abortion Ban]… all I could think was, "ok, how is that not just pure evil?"
Gloria: Well, you know, there is certainly evil effect. There are certainly going to be millions of women and a lot of men who simply are not alive because he's in the White House. There are going to be whole species of animals, and living things, and plants that are not alive anymore, and will never come back, because: he killed them. So, that's an evil impact. I don't think it's inevitable. He wasn't born that way.
So, class, what have we learned today? There will be "millions of women and a lot of men who simply are not alive" because we can no longer kill as many of them before they are born? In order to avoid conflicting lessons, we will not be teaching Statistics, Formal Logic, or Ethics today.
Related posts:

Fatal error: Call to undefined function related_posts() in /home/smarmyca/public_html/smarmycarny/wp-content/themes/smarmy/single.php on line 48