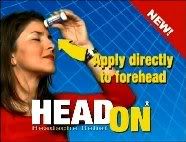 HeadOn is a new OTC product on the market. Basically, it looks like a large tube of ChapStick, except you rub it on your forehead to relieve headaches.
Interestingly enough, HeadOn comes in five varieties:
HeadOn® P.M.
HeadOn® Migraine
HeadOn® Extra Strength
HeadOn® Children's
HeadOn® Tension Headache

This, of course, leads me to wonder how effective the Tension Headache product is on migraine. If you get a migrane and have the Tension Headache product, do you have to run out to the store for more? Just when you thought that five varieties were a bit overwhelming, it turns out that they're also asking if people would be interested in products directed specifically for sleep aid, menstrual headaches, and sinus headaches, as well as fever reducers for adults and children. Of course, when compared with Robitussin's 30 different-yet-similar products, it's a simple choice.
HeadOn's website boasts that the product is "colorless and non-sticky upon application." Somehow, I'm guessing a big colorful streak on the forehead just didn't go over well in the initial testing phases.
Just be prepared to explain to people that you're not inappropriately using your ChapStick on your forehead.
Related posts:

Fatal error: Call to undefined function related_posts() in /home/smarmyca/public_html/smarmycarny/wp-content/themes/smarmy/single.php on line 48