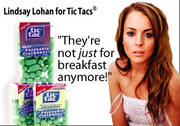 The 1½ Calorie Breath Mint
Lindsay Lohan says "Tic Tacs: They're not just for breakfast any more!"
I discovered this fake advertisement long before Lindsay Lohan admitted that she struggled with bulimia, but well after everyone already knew it.
Now that Lohan has admitted her bulimia, this joke has sort of become poor taste, so that's why I'm posting it.
While researching for this post, I discovered that Tic Tac is brought to us by Italian company Ferrero, the same company that makes Ferrero Rocher, Nutella, and Kinder Eggs!
Related posts:

Fatal error: Call to undefined function related_posts() in /home/smarmyca/public_html/smarmycarny/wp-content/themes/smarmy/single.php on line 48