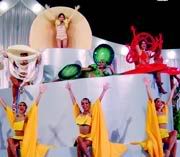 The Whopperettes
Burger King returns with another eccentric commercial. This time, it's the Whopperettes.
A few dozen women are dressed in fancy gowns, symbolizing lettuce, onions, tomatoes, mayonnaise, beef patties, and a hamburger bun.
One by one, each of the condiments piles onto each other to form a Whopper. Particularly disturbing (and, at the same time, comical) were the beef patty and mayonnaise dresses.
This was not my favorite Burger King commercial as of late (such as the "Fantasy Ranch" commercial), but it certainly takes the cake — I mean the Whopper.
Related posts:

Fatal error: Call to undefined function related_posts() in /home/smarmyca/public_html/smarmycarny/wp-content/themes/smarmy/single.php on line 48