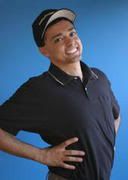 Scotty Pelk, the film geek
Film Geek seems like a fun little independent film for recreational and serious film geeks alike. Watch the trailer on the Film Geek page or on Apple.com and decide for yourself.
The Oregonian suggests that Film Geek "just might be this year's 'Napoleon Dynamite,'" so don't miss out.
Film Geek is a hilarious new comedy about Scotty Pelk, a socially inept video store clerk with an encyclopedic knowledge of film. He runs a website, scottysfilmpage.com, which receives zero traffic. He annoys his customers. He annoys his co-workers. And when he is inevitably fired from his video store job, Scotty finds refuge in Niko, a downtown hipster who teaches him a thing or two about love and life. But Niko's smarmy ex-boyfriend Brandon won't go away quietly. As Scotty's first love turns to obsession, his life begins to change in profound ways.
The trailer includes a hilarious scene with Scotty and a customer looking for a movie that might have "Heaven" in the title. Scotty immediately starts rattling off at least ten such movies of various genres. In fact, once he gets started, he ignores the customer and continues with his list, almost as if he has been challenged. Good times.
The film geek, Scotty Pelk, is played by Melik Malkasian, who played a tribal shaman in an episode of Star Trek: Voyager. The female lead, Niko, is played by Tyler Gannon, who also appeared in Thumbsucker, another movie previously featured on Trailer Tuesday.
Film Geek was acquired by distributor First Run Features. As it is a small independent film, It ran in a couple theatres . . . one in Portland and one in New York City. Hopefully, we'll see it soon in theatres or on DVD.
Related posts:

Fatal error: Call to undefined function related_posts() in /home/smarmyca/public_html/smarmycarny/wp-content/themes/smarmy/single.php on line 48