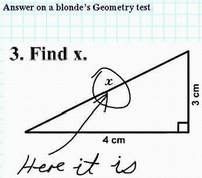 Find x
This week's picture comes from EatLiver.com, though I originally noticed it in someone's MySpace comments.
This joke falls into the "I wish I had thought of that" category.
Of course, one has to wonder why geometry texts frequently use the phrase "Find x" when they really want to say "Find out what x is equal to." I suppose it's for brevity.
Related posts:

Fatal error: Call to undefined function related_posts() in /home/smarmyca/public_html/smarmycarny/wp-content/themes/smarmy/single.php on line 48