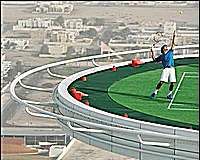 Tennis, anyone?
When I first received these awesome rooftop tennis pictures in an e-mail, I thought they looked amazingly cool . . . and amazingly fake. Much to my surprise, however, I found out that these pictures are authentic!
The Burj Al Arab hotel invited Andre Agassi and Roger Federer to come play some friendly games of tennis on their grass ::wikipedia("cantilever", "cantilevered"):: helipad.
Despite my reluctance to believe the photos, my trusted resources at snopes.com confirm this to be real. I'm horribly impressed. It's the world's highest tennis court.
Of course, when I was in my college tennis court, we would always get upset when the ball flew out of the court area and over the fencing. (This explains why I prefer racquetball!) Just imagine the time to retrieve your ball from this court!
Related posts:

Fatal error: Call to undefined function related_posts() in /home/smarmyca/public_html/smarmycarny/wp-content/themes/smarmy/single.php on line 48