30 May 2006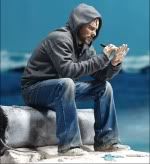 The Charlie Action Figure
Mcfarlane Toys announced that they will be making Lost action figures, currently due out in November 2006. The company plans on releasing a few characters at a time in multiple series, including deceased characters. Each character will also come with a small prop (e.g. Kate comes with the toy plane).
As you can see here, a picture of the Charlie figurine has been released. The other characters slated for this first series are Jack, Kate, Locke, Hurley, and Shannon. And yes, that's a bikini-clad Shannon, not a bloody-hole-in-torso Shannon.
If you purchase the deluxe boxed sets, you will also get dioramas of appropriate Lost sets so the geekiest of you can recreate scenes from the show.
Each of the figures will say various phrases (e.g. Hurley yelling, "The numbers are BAD!!!")
You can currently pre-order the figures at AllStarFigures.com at a price based on early estimations. The eventual price might be higher or lower, but you can lock in on the AllStarFigures price right now.
As if that weren't enough, Ubisoft (Myst, Resident Evil, Far Cry, Heroes of Might and Magic, Splinter Cell, and a game based on CSI) is working on an interactive video game slated for a 2007 release. Don't get your hopes up . . . that's going to be late 2007, most likely. The game should support game console and PC platforms.
Posted by Novac in
All
,
Children
,
Computers
,
Culture
,
Fun
,
Games
,
Geeks
,
Interesting
,
Lost
,
Media
,
People
,
Pop Culture
,
Shows
,
Television
,
Television Tuesday
,
Video Games
,
Weeklies