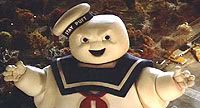 Cross the beams to toast this one
Today is National Toasted Marshmallow Day. All across the nation, Americans of all ages are toasting up these sweet treats. It's no coincidence that this holiday falls in late August, when starting up a campfire and enjoying a toasted marshmallow seems like the natural thing to do.
Rumor has it that most marshmallows consist of up to 80% air. With that much air, they must be low-calorie, so dig in!
No matter how you enjoy marshmallows, there are so many different ways to prepare them:
Toasted on a stick over a campfire. (Classic.)
Microwave. High. 3 seconds. Ding!
Toasted over the kitchen range. (Ideal only for rainy days.)
Toaster-mallows. (Please allow 14 days for cleanup.)
. . . and many more creative methods!
Once you decide on a cooking method, there are still different ways to prepare the marshmallow:
Rotisserie marshmallow: Lightly caramelized shell with a warm, gooey core.
Kids' choice: Flaming ball of marshmallow death, resulting in a black, charred mass on a stick that burns your fingers as you attempt to pull it off.
ADHD marshmallow: Well-toasted on one side, raw on the other.
Impatient and hungry person's choice: Slightly warmed with no true toasting at all.
Raw. (The abomination!)
How do you prefer to cook your marshmallows, and how well done do you cook them? Let your voice be heard!
Of course, you can always use your toasted marshmallow to make a S'more, but you should know that National S'mores Day was back on August 10. You must have at least one unadulterated toasted marshmallow today! If you run out of fire, feel free to play a game of Chubby Bunny with your friends.
For more weird and bizarre holidays, check out my Eccentric Holidays calendar at Google Calendar.
Related posts:

Fatal error: Call to undefined function related_posts() in /home/smarmyca/public_html/smarmycarny/wp-content/themes/smarmy/single.php on line 48