8 December 2007
A while ago, The Smarmy Carny covered two Tower Defense games worth playing, and strategically the best game out there is Desktop Tower Defense.
At long last, the Casual Collective website has opened its virtual doors for anyone to register and enjoy. Previously, I had been playing under the "invite only" beta version of the site.
MPDTD — Multiplayer Desktop Tower Defense

MPDTD
The Multiplayer version of Desktop Tower Defense is much more thrilling and fast paced than the original single player version when the Arcade version is selected. In the original, the higher your tower upgrade, the longer the upgrade took, and when you sold your towers, you got back less money than you spent on the tower. In MPDTD with the Arcade option, all upgrades are speedy and you get all your money back when selling towers. This makes gameplay much more exciting, especially if you are nimble enough to sell and build towers to suit the upcoming wave of creeps.
Another feature of the multiplayer game that creates urgency is that the next wave starts whenever any player completely kills off a wave of creeps. So there's an urgency to finish the wave off before anyone else, thus sending more creeps before your opponent is ready for them.
Desktop Armada and Desktop Armada Missions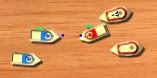 Desktop Armada
With Desktop Armada, 2 players each have six "ports" on their own side of the playing board. From each port, you can choose to build and launch one of a variety of different ship types in a variety of routes. Patrol boats are very fast and build quickly but are easily destroyed. Destroyers and missile boats are medium sized ships — the former take plenty of damage and the latter have a long firing range. Battleships are large ships that take a while to build but take a large amount of damage.
The goal is to get your ships through to the other side, where your boats will fire upon the enemy's base. The trick is to not run out of money and to send enough firepower to overtake your enemy or to send your ships on paths that will avoid detection by enemy ships. A fog of war also makes things more interesting and make the puny patrol boats valuable in scouting the terrain.
Desktop Armada Missions is quite similar to Desktop Armada, but as the name would suggest, you get certain missions or challenges to take on instead of the straight out war.
Buggle

Buggle
Buggle is a great game that players can jump right into without much training. A multitude of little buggles (ball-type characters) fly around the board and eventually freeze. You click to place your marker, as do the other players. Your marker converts the nearest buggles to your color, and those buggles in turn convert other nearby buggles. The buggles freeze again, and each player places a second marker on the board. You get more points for controlling more buggles.
This game is a fairly mindless game that involves a small amount of strategy and a large amount of luck. Even if you place your marker in the best location on the board, two other players' markers could flank you, leaving you buggle-less. Sometimes the other players place their markers in a group, allowing your marker to grab the lion's share of the points for a round.
Flash Element TD 1 and Flash Element TD 2
Flash Element TD
Flash Element TD 1 is the single player tower defense game that was the precursor to Desktop Tower Defense. Unlike the newer Desktop Tower Defense, bad guys follow a pre-determined path and your towers must be off the path. You can upgrade towers and have only a small selection of tower types to choose from.
Flash Element TD 2 is still in production, but promises more variety from the fairly limited Flash Element TD 1. Keep an eye out for this new version, as it will certainly improve upon the monotany of the original game.
What would a multiplayer game be without rankings? The Casual Collective keeps track of your own personal score and rank as you win or lose games. Each player gains or loses points based on the ELO system, a sort of prorated points system used in chess rankings. You get more points for defeating players with a higher ranking and you can also lose many points for losing to players with a lower ranking.