27 August 2006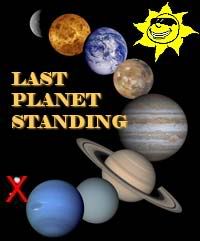 Last Planet Standing
On the most recent installment of Last Planet Standing, Pluto was voted off the solar system.
Each week, viewers watch host Sol Helios and his sunny personality as he introduces us to footage from the previous week. We get to watch the planets as they are forced to live together in the same solar system. Uranus is the early crowd favorite, particularly with his humorous catchphrase, "Are there gaseous clouds around Uranus? You bet'cha!" Pluto was likely voted off this week because of his controversial and disparaging comments on last week's show regarding Jupiter's big red birthmark.
In a universal vote, Pluto received the least number of votes, just half of the votes placed for the next-lowest contestant, Neptune. Venus also did not score well with the audience, due to her provocative and promiscuous behavior. Another unpopular planet, Mercury, won immunity last week in a race around the solar system, whereas Pluto came in dead last.
Next week, the planets will box each other for immunity. Rumor has it that Saturn is the best planet inside the ring.
Last Planet Standing is a new reality show that you haven't heard of that airs on a network you haven't heard of, and is not to be confused with the Marvel limited series from 2006.
Posted by Novac in
All
,
Astronomy
,
Education
,
Fun
,
Hilarious
,
Humor
,
Media
,
Pluto
,
Reality Shows
,
Science
,
Television