14 February 2005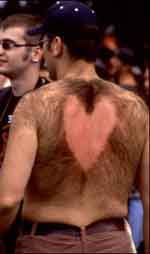 Shaving my love for you, babe
Happy Valentine's Day, children.
To pass the time, here's a couple humorous lists for you.
Things women should know about men:
No, you can't have the remote control.
We don't know anything about handbags. Don't even ask.
We did water the plants. They died anyway. Nobody knows why this happens.
If you must take us out shopping, never, ever leave us alone in a lingerie store. All the old ladies make mean faces at us and this only adds to our discomfort.
It's in neither your interest nor ours to take the Quiz together.
Silence does not need to be filled with discussions about "us" and "the relationship."
Burping and farting really do increase our mana.
You probably don't want to know what we're thinking about.
We really don't know where the other sock is.
Here's how women can try to drive their man crazy (on purpose, of course):
Do not say what you mean. Ever.
Stash feminine products in their backpacks and in their books as cute reminders that you were thinking of them.
Play Alanis Morissette's "You Outta Know," loud. Look at them. Smile.
Look them in the eye and start laughing. (during an intimate moment)
Cry.
Gather many female friends and dance to "I Will Survive" while they are present. Sing all the words. Sing to them. Sing loud.
Go everywhere in groups, especially the bathroom. Do nothing alone.
Make them guess what you want and then get mad when they're wrong.
Plan little relationship anniversaries, i.e. the monthly anniversary of the time you saw each other in the library for five minutes. Get mad at them for forgetting. Then cry.
Constantly claim you're fat. Ask them. Then cry, regardless of their answer.