14 January 2012
Those of you who are hockey fans know that generally, professional players of the NHL caliber are usually pretty tall. In Canada and the USA, average male height is 5 feet, 9 1/2 inches. Martin St. Louis is usually referenced as one of the best "short" players in the league at somewhere around 5' 8". The Buffalo Sabres has the shortest player in the NHL with Nathan Gerbe, standing at 5' 4".
I have many friends in the Buffalo area, including one person who posts relentlessly on Facebook about Gerbe. As I was responding to one of these I accidentally typed in "Gerber" and suddenly it dawned on me: Buffalo has the "Gerbe baby"!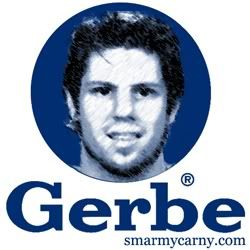 (Of course, if you don't know what/who the "Gerber baby" is, you won't get this joke.)
Of course, it's all in good fun. I love the Sabres and I highly respect anyone who can get into the NHL at that height — you've got to have an even higher work ethic to play at that level with that stature!