4 September 2006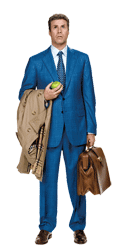 Ferrell as Harold Crick
Stranger Than Fiction looks to be a crisp comedy with roles well-suited for Will Ferrell, Emma Thompson, and Dustin Hoffman. It's due out November 10, in time for the Thanksgiving Hollywood push. Based on the trailer and other media I have seen thus far, I have placed it on my List of Movies to See (until I see it, of course).
Karen "Kay" Eiffel (Emma Thompson) is a depressive author who is suffering from writers block because she can't figure out how to kill off her main character, Harold Crick (Will Ferrell). Harold Crick is an IRS agent with OCD who lives alone, eats alone, and sleeps alone. Unbeknownst to Key, Harold is a real person, and he begins to hear Kay narrating his life as she writes it.
Harold visits a professor of English literature, Professor Jules Hilbert (Dustin Hoffman), who gives him advice about how to interact and react with the narration and developing storyline.
Finally, Key has a breakthrough and figures out how to kill him. As she foreshadows the events in her book, Harold is alerted to his imminent death. After hearing Kay on a talk show, he sets out to find the author narrating (and controlling?) his life.
Also in the movie are Maggie Gyllenhaal as Ana, the love interest and Queen Latifah as Penny, Kay's assistant.
See the trailer for Stranger Than Fiction. Be sure to visit Sony's Stranger Than Fiction site (and click on "Enter the Site") to experience this well-developed site. (Kay narrates your cursor's movements as you navigate the site.)