3 March 2006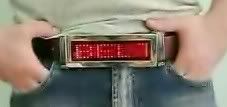 The ESLEDBB in action!
Have you ever wished your pants could do the talking? Well, now's your chance.
Brain Buster Enterprises has created The Electronic Scrolling LED Belt Buckle. (I'm going to call it ESLEDBB for short. Won't you?) Is it electronic? Yes! Does it scroll? Yes! Does it use an LED? Yes! Is it a belt? Umm, no. Is it a buckle? Yes!
The belt allows you to store six separate messages of up to 256 characters each. I'm curious about how you change the messages. Is there some sort of keypad on the back or under a panel, or do you connect it to your computer? For $30 plus S&H, you can get your very own ESLEDBB. Batteries and directions are included, but the actual belt is not.
Head on over to the ESLEDBB webpage (and I mean webpage literally!) and check out the details.
On the website, you can also see a brief quicktime movie of the ESLEDBB in action. Spoiler Alert! The video will bring you no surprises.
And when it comes to putting messages on your pants, the possibilities are endless.